Our research focuses on functional and evolutionary aspects of small RNA pathways. This involves the development of bioinformatics tools for analysis of high-throughput sequencing data to characterize different classes of small RNAs.
Background: Jumping Genes show
Background: Jumping Genes
hide
Background: Small RNAs show
Background: Small RNAs
hide
---
- How secondary structure influences small RNA pathways
Transposable elements in the tree shrew are targeted not only by piRNAs but also by smaller RNAs resembling typical features of siRNAs. Comprehensive bioinformatic analyses showed that piRNAs preferentially target transposon transcripts at sites that do not form foldback structures and thus remain accessible for guiding piRNAs. In contrast, sites that avoid piRNA targeting owing to strong secundary structures are processed by Dicer, an enzyme that recognizes double-stranded RNA (
Rosenkranz et al. 2015, RNA 21(5):911-922
).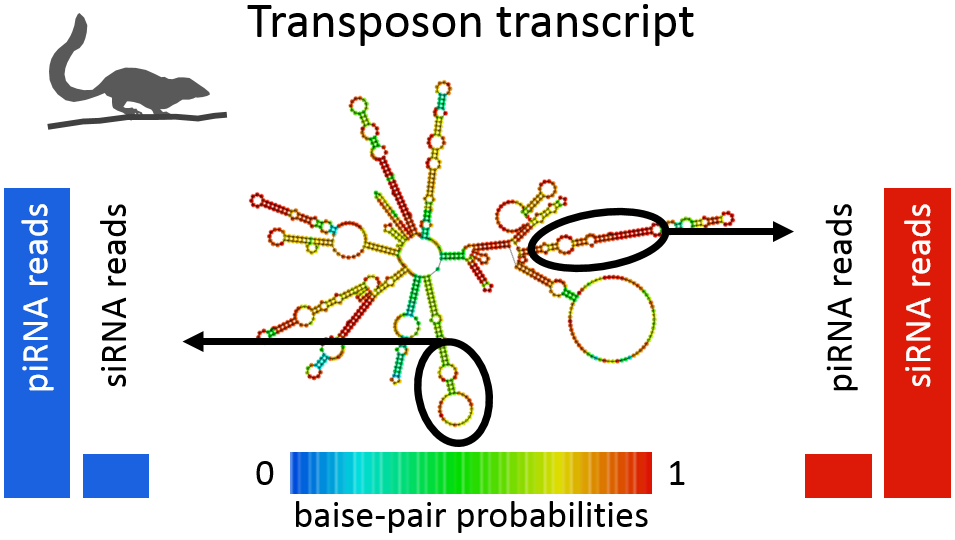 ---